Birthplace of the Blues
In 2005 when UNESCO asked me to go to Mali of course I said "Yes".
It was to a pan-Afrikan conference that was one of a series of regional UN conferences leading up the UN World Summit on the Information Society (WSIS) at Tunis in 2005. The first WSIS had been at Geneva in 2003. In May 2003 I had attended and spoken at the UN Asia Pacific WSIS Pre-Conference in Tokyo. I challenged the conference orthodoxy and got myself noticed.
It wasn't that I was important at all. I'd been a member of the local NZ UNESCO Communications Sub-Commission and managed to be part of the NZ delegation to Tokyo where I'd spoken briefly as part of a panel discussion. Someone in UNESCO thought my korero might be relevant to the Afrikan conference. Right place at the right time. The UNESCO conference at Bamako, the capital of Mali, was themed "Multilingualism for Cultural Diversity and Participation of All in Cyberspace". I spoke on "Fostering the Creation of Local and Indigenous Content".
The conference was not the main event for me. It was very interesting and I met interesting people from all over the globe but it was my first (and only) time in Afrika and I saw it as a small pilgrimage to the birthplace of humanity. It was only a short visit confined to a single city in West Afrika but a visit that remains vivid in memory.
At The Travel Doctor in Auckland they treated me like a pin cushion with multiple vaccinations. It reminded me of our deployment to Vietnam in 1967 when they pumped into us every vaccination known to mankind; except the one that would prevent death by blast or bullet.
Getting there was a bit of a hassle. We had to get visas from the Embassy of Mali in Paris but because of the short lead time quite a few of us didn't have time to go through the three month bureaucratic process. So UNESCO HQ put us on a plane from Paris hoping to sort it out on arrival in Bamako. A leading Afrikan academic involved in the conference got it sorted and we were all shepherded through border control sans visa and boarded a bus for the city.
Bamako is like a lot of the world's cities. Impressive boulevards and buildings in the centre, leafy suburbs in the inner city, a market or markets located near the city centre, the rich and powerful living in the cooler hills, and most of the population living basic lives in basic houses and huts on the outskirts. My first impression of Afrika, apart from the airport, was driving through those outer less endowed suburbs.
The smell hit me first. I don't mean a bad smell. A different smell. Well it probably smells bad to people who haven't travelled much. Have you noticed that different countries and different cities have their own distinctive smells? Sometimes the smell changes as the country or city develops and modernises. A long time ago, the early 1960s was when I  first made the trip, the pungent smell of tanneries on Botany Road was the first smell of Sydney on the way from the Airport to the CBD. The tanneries have long since been banished. Singapore today smells nothing like it did in 1965 when I first went there. They've both been sanitised.
Driving into Bamako I was instantly reminded of the first time I arrived in Malaysia in 1965, forty years earlier. That was my first time in a different country other than New Zealand and Australia. We were driven by bus from Singapore to Melaka and our Commonwealth Brigade base at Terendak and it is the smell that I remember most from that night as we drove through the tropical countryside. Steaming decaying vegetation, steam rising from the road, the lingering scent of exotic fruits and flowers, muddy rice fields, mud wallowing buffalo, and the pigs, dogs and chickens ubiquitous in South East Asia and Oceania. The smell of diesel fuel from the trucks and buses and Mercedes taxis. And in the villages and towns the smoke from cooking fires and the strong aroma of strange new foods.
The smells of Bamako were different but the impact was the same. Dust rising, it smelt a dry land, the base smell something like the smell of the Australian outback in summer but different. Dogs and chickens. We drove through ramshackle rows of shops. Open drains and uncollected rubbish. Old Mercedes and Toyotas and diesel fumes. Smell free handcarts. And a whole new and interesting assortment of cooking smells. This was an older smell than the smell of Asia and Oceania and Australasian cities. Like the smell of old people and their lived in houses but different. It said, "Welcome home pilgrim. This is what you will smell like 60,000 years from now when your new lands have grown old and dry. Don't wrinkle your nose. Welcome home".
That's what happens when you let your nose hear for you. You hear unsaid things.
As if to counter the dryness and brownness of much of the landscape the women of Afrika set the place alive with colour. Strikingly rich colour. Their dresses and headscarves ablaze in reds, oranges, yellows, greens, blues, indigos and violets. The browns too are rich browns. The streets and shops and markets are set alight by the women of Afrika. And as if the lightness of colour creates a lightness of spirit the public spaces are alive with the beautiful smiling black faces, the cheerful chatter and gentle laughter of tall, sinuous, slender, graceful Afrikan women. The men are colourful too by the way.
How much richer we would be if our streets were alive with colour instead of the blacks and browns and dark blues of our streetscape.
I brought as much of that colour home with me as would fit in my suitcase. A pile of different Afrikan materials. My London domiciled daughter waylaid me in Paris on my way home and carried away as much as I could bear to part with. I still have it, my treasure trove of colourful cloth, taken out of the drawer in moments of reflection upon my hikoi ki Afrika. I hear still the chatter and the laughter. I hear too the music of Mali.
In modern musicology mythology West Afrika is said to be the birthplace of the Blues. It may well be true. The Malian bluesmen have indeed had an impact on modern world music but I think they got their new version of their ancient music from Amerika. I love the Blues and the music of Mali. Boubacar Traore and the late Ali Farka Toure, Salif Keita and Toumani Diabate were already some of my favourite musicians before I went to Mali. I didn't get to see them perform but I did manage to get to two concert performances, one modern and one traditional. It is one thing to listen to your collection of recorded Malian music but something else again to be at live performances in the place of origin. Quite magical.
The Jeli (French griot) of Mali are a traditional caste of professional orators and musicians and singers. Their kora is a stringed instrument usually accompanied by a variety of drums. It is from these instruments that it is said the Blues originated, and that the call and response Blues style of music originated in West Afrikan singing. Since the 1950s they have added the guitar, both acoustic and electric, to their repertoire. Modern Afro-pop is very popular in Europe. The men don't have it all their own way for the Malian divas are also hugely popular.
There is deep sadness in this music as well as joy and exuberance. From here in West Afrika came a large number of the 12 million poor souls who were sold into slavery in the New World from the 15th to the 19th Century. They were robbed forever of their heritage, their languages and cultures and kept only the remembrance of their music. It became the Blues, the R&B and the Rock 'n' Roll of my youth that reached out to the world and travelled back again to Afrika.
In this former French colony French is the official language and Bambara the most widely spoken. There are about twelve other indigenous languages that are considered "official" languages. The modern songs are in both French and Bambara. Although only about 20-25% of the people speak French the music is also aimed at an appreciative audience in France. On the streets of Bamako the language is mostly Bambara but you can get by with your rudimentary French, and mine is indeed rudimentary. Communication is part of the delight of travel. In the market some speak English but not many.
After the people it is the sights, the sounds and the smells that set different places apart. I hadn't really met any people yet.
Apart from hotel staff the first I got to know was a really nice guy. After a good night's sleep the first thing I did was to hire a driver with an old Toyota to show me the city. He wanted to take me along the standard tourist route but I pointed to the highest hill overlooking the city and asked him if he could drive to the top. He didn't know, so with much encouragement and financial inducement he set out to find out something new about his old city. Initially reluctant he soon got into the swing and became a willing participant in my adventure. He was still worried about his car's suspension though. We eventually found a track and wound our rocky way to the top.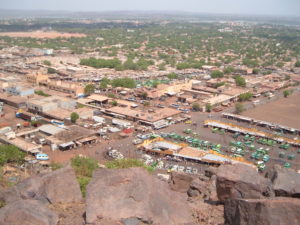 A view from the lower slopes. Bus depot in the foreground and the city centre far beyond in the hazy background
Far below our feet was the main bus depot with dozens of parked green buses and stretching away from us into the distance was the quite beautiful and relatively modern city of Bamako sitting astride the ancient Niger River. Down there was a teeming mass of modern humanity and up on the hill almost total silence and as I wrote in my journal the "remembrance of a timeless land". Down there were just over 2 million people who had evolved from ancient hunter gatherering bands who had roamed across and lived lightly upon the ancient land beneath our feet.
These modern West Afrikans descended from the same people as the East Afrikans who were the ancestors of all of the rest of us on Earth.
Across the way on another hill was the luxurious abode of the President, surrounded by the buildings of government agencies. One could imagine the French colonists appropriating to themselves the best hill in town, to look down upon the seething masses. And on another hill a hospital in splendid isolation. I wondered how many of the people down there had access to that hospital or was it reserved for the wealthy, the great and the powerful. The Mosque, clearly visible in the middle of the city, was down on the flat among the people.
We watched as women slowly climbed their way around the cliffs and up the steep hill laden with the day's shopping from the market. My guide didn't know where they lived or where they were going and we couldn't see any houses.
There were cows and goats foraging for food amongst the stunted straggly dry country trees clinging to life in the dust amongst the rocks. The country reminded me a bit of summer in the Canberra region of Australia, and of the dry country where we did our military manoeuvres when we were training at the Royal Military College so long ago. Australia too is an old land and the culture of its indigenous people is said to be the oldest living continuous culture on Earth. What then of these Afrikan cultures in this even older land, in human terms.
You can learn a lot about a city from its highest hill.
It was just a two day conference. Most of the speakers were from out of country telling us mostly about the latest linguistic and technological innovations in creating multilingual content for the Internet. The Afrikan delegations by comparison spoke mostly about their specific needs. Apart from the Afrikan korero I'd heard most of it before and I amused myself by trying to follow the French translator rather than the English. Until the leader of the French delegation spoke.
He was a French government minister and he started speaking in English because he said English was the most common language at the conference. Almost immediately one of his bureaucrats interrupted (in French) and roundly chastised him for breaking French government protocol by not speaking French at an international event. She was quite severe in her criticism. He told her to sit down and shut up and delivered the rest of his speech in English. I thought it was hilarious.
Later that day I met her in a workshop event. She greeted me in French and I responded in Te Reo Maori. She said "Je ne comprend pas".
So I asked in broken French that as France had colonised East Polynesia perhaps she spoke Tahitian, a sister language to Maori. "Non".
I then told her I was fluent in Bahasa Indonesia and asked if that was one of her languages. "Non".
So I asked if English might be a language we had in common. "Let's speak English" she replied.
We got on well and she was a nice person beneath the French chauvinism. She saw the humour in our initial exchange.
Many of the out of country speakers spoke to or at the Afrikan people or to each other. In my korero I tried to speak with them; Oceania and Afrika being similar continents in a way. You'll have to read the speech to work that one out. It seemed to strike a chord and I was befriended by a senior Malian delegate, the professor who had smoothed our way into the country. He taught at a university in another Afrikan country but was obviously closely in touch with affairs in Mali. He was a gentleman in all respects, and an intellectual of mana in his own country. He was great company and it was he who directed me towards the musical performances I attended in the evenings.
I don't know that the conference achieved anything or if the main World Summit (WSIS) in Tunis achieved anything either. I think many international conferences are for the benefit of the people that attend rather than the countries they represent. They flesh out resumes.
It was soon over and we had a day to spare and to explore the city. A multicultural and multilingual group of us led by a small but intrepid Malaysian professor with a big camera set off. We made sure we had enough fluent French speakers in the group to smooth our way. After a bus tour of the city we arrived at the market. It was alive with crowds of local people buying anything and everything they might need. Perhaps a thousand stalls. Wending our way through the many alleys we were immersed in a sea of colourfully clothed people and they seemed to have a heightened sense of respect for personal space despite the crowding.
In some places in the world people intrude into your personal space and in others no less crowded they don't. Voiceless rudeness and politeness sort of.
A short walk took us to Marche des Artisans, the Artisans Market close to the Grand Mosque I had seen from the hill. This was less crowded and seemed to me to be a place mainly for tourists. Hundreds of stalls where artists created and sold jewellery, paintings, carvings, musical instruments, leatherwork, sculpture, ironwork and every other form of art to be found in Bamako. It was very interesting but touristy and I bought nothing. I went back instead to the main market to a fabric shop I had noticed and bought a large and stunning piece of fabric I had seen earlier. And a whole pile of different fabrics. My remembrance of the colours of Afrika.
My Malaysian professor friend got us into trouble with some of the locals by trying to photograph their Grand Mosque without permission and after a bit of a standoff the Police rescued us. That was the end of our excursion. He was from a Muslim country. He should have known better.
I would love to have visited and stayed at the legendary Muslim city of Timbuktu to the north. I would love to have met up there some of the nomadic Tuareg people of the Saharan and Sub-Saharan region. It is said that their skin has a blueish tinge from the indigo dyed clothing they wear. All I have instead is a piece of indigo dyed cloth.
In 2012 in three separate developments Tuareg rebels declared a new state, there was a coup d'etat in Bamako, and Timbuktu was overrun by Al Qaeda and other Islamist groups, some of them pushed out of Libya and Tunisia after the Arab Spring. There was fighting between the Tuareg and the Islamists and in 2013 the Islamists were defeated by French armed forces. Peace was brokered with the Tuareg but life in Northern Mali is still fraught. Much sadness in a beautiful country.
I had trouble leaving Mali because I didn't have a visa to be there in the first place. My new friend the professor came to the rescue again and saw me onto my plane.
Back home, from the sublime to the mundane.
The trip helped get rid of a bad case of sciatica. For months before I was in constant pain and there was no way I could travel like that. I found a very good physiotherapist and he gave me an exercise regime to realign and strengthen my core musculature. He told me that he couldn't fix it but that I could. He also said that 90% of his clients were too exercise averse to fix their own problems. I got the point. I hit the Swiss Ball for a couple of hours every day and was soon in a fit state to travel. After the trip I continued with the regime and haven't had any lower back problems since.
It's amazing what the right incentive will do. Mali attended to my soul, and fixed my back. And ten years later I still haven't decided what to do with all that fine cloth. Perhaps it's time to deck out my granddaughters in the colours of Afrika.
A table cloth or bedspread perhaps. I still haven't decided.